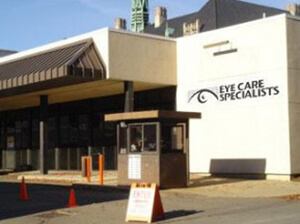 425 Adams Avenue
Scranton, PA 18510
Ph: (570) 558-3937
Hours of Operation (Office)
M – 8:00 a.m. – 4:30 p.m.
T – 8:00 a.m. – 5:30 p.m.
W – 8:00 a.m. – 6:30 p.m.
Th – Hours Vary – please call the office
F – Closed
Sat – Closed
Optical Shop Hours
M – 8:00 a.m. – 4:30 p.m.
W – 8:00 a.m. – 6:30 p.m.
Ophthalmologist in Scranton, PA
As the premier team of ophthalmologists' in the Scranton, PA areas, we give the surrounding areas personalized treatment and offer professional eye care services. Our Scranton Ophthalmologists give you services in cataracts, LASIK procedures, optics, retinal disorders, dry eye, glaucoma, and general eye care services. We know how important individualized treatment is for each of our patients which is why we pride ourselves in personalized communication. Ready to get started on your path to clear vision? Schedule an appointment at our Scranton offices today!