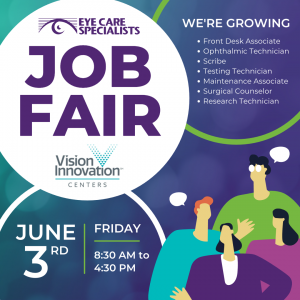 Eye Care Specialists will be hosting a job fair on Friday, June 3rd from 8:30am – 4:30pm at the Hilton Garden Inn Wilkes Barre at 242 Highland Park Boulevard, Wilkes Barre PA 18702.
Open positions include:
Front Desk Associate
Ophthalmic Technician
Scribe
Testing Technician
Maintenance Associate
Surgical Counselor
Research Technician
Eye Care Specialists is a premier eye care facilities with multiple locations throughout NEPA, and we are expanding because of our growth and opportunities for promotion.  We employ a team of innovative and accomplished providers, surgeons, and clinical care staff.
You'll earn a competitive salary and an excellent benefits package.  We provide comprehensive insurance plans, HSA (Health Savings Account) options, eye care benefits, paid time off, paid holidays and a 401(k) plan.
We look forward to seeing you at the job fair!  You can also review open positions and apply by clicking here.