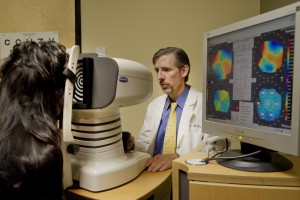 With most things you will ever do in life, using the best gear and technology will make a huge difference in the level of performance you can expect. LASIK is no different. When your procedure is performed using the best technology, you will be able to achieve more precise results that will provide you with the crisp, sharp vision you deserve.
At Eye Care Specialists, we understand the tremendous benefits LASIK provides to our patients, and we are committed to helping you achieve the best results possible. That is why we use the latest and most advanced technology available with all of our patients.
Hear from our LASIK Patients
Are you thinking about LASIK? A few of our LASIK patients share why they finally decided to have LASIK and how they feel with clear vision! Watch the video below to hear their stories.
Try our LASIk Self Test:
Schedule your FREE Laser Vision Correction Consultation Online!