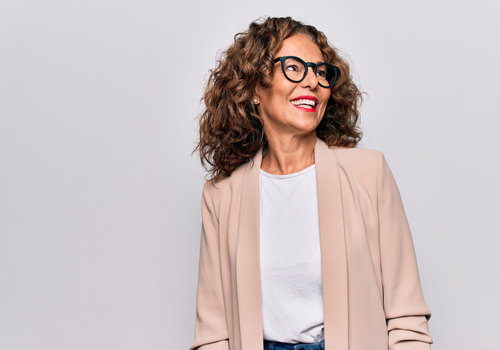 Glasses are necessary accessories for many people, but each pair won't last forever. Whether your vision has worsened, your style has changed, or your glasses were damaged, you'll eventually need a new pair. 
Choosing a new pair of glasses can be difficult. Keep reading to learn four tips to try when buying new glasses!
Know Your Budget
Of course, you should make sure you can afford your new glasses. At Eye Care Specialists in Kingston, Pennsylvania, we carry major brands of frames that include:
You won't have to sacrifice style to save your bank account. With many options to choose from, you can find a style that you like and fits neatly into your budget.    
Think About Frames vs. Face Shape
Are you having trouble finding the right frames? Sometimes a good place to start is to think about your face shape and go from there.
Typically, frames should complement your face shape. That means you generally want a frame shape that is opposite to your face. 
Round Face Shape
Those with round face shapes may look best in rectangular frames. They add more features to the face structure, lengthening and thinning your face.
Square Face Shape
Square faces match well with a variety of frames. As a good rule of thumb, you want to invest in glasses that sit high on your face. 
Round frames soften your sharp features while making them stand out. 
Oval Face Shapes
People who have oval faces match well with even more frames. You will have the most options to experiment with and still be trendy. 
You may want to avoid glasses that are overly designed.    
Stand Out With Your Own Style
Don't get too bogged down in the details. Remember to have fun choosing your new glasses. 
Following trends is a good place to start, but you might have more fun experimenting. Are you feeling bold? Be a trendsetter!
You can find a large selection of frame shapes, thicknesses, and colors at Eye Care Specialists.  
Choose Frames That Fit Your Lifestyle
Not all frames are the same. Some lean more heavily on design, while others are more practical. 
If you play sports, for example, you might prioritize frames that fit snugly. If you are all about the outfit, frames that stand out may be more important.
You might even consider getting more than one pair! With competitive prices at Eye Care Specialists, you don't have to compromise.
Consider Upgrading Your Lenses
Just like with frames, not all lenses are the same. At Eye Care Specialists, we partner with trusted lens crafters brands Essilor and Zeiss so that you can be sure of the quality. 
You can also invest in coatings that take your lenses to the next level. Treat your lenses with a coating to reduce glare so you can feel safer driving at night. 
Live an active lifestyle? Consider a coating to make your lenses scratch and dirt-resistant. 
Whatever your glasses needs are, you can find them here. 
Are you ready to pick out a new pair of glasses? Schedule an appointment at Eye Care Specialists in Scranton, PA, today to find out if new glasses can improve your life!