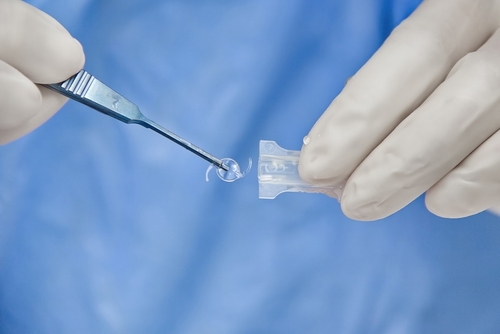 A very important part of preparing for cataract surgery is selecting the best IOL based on your vision goals, lifestyle, and budget. The IOL you choose will shape your vision's potential after cataract surgery. 
Choosing between a standard or a premium IOL is a good place to start. At Eye Care Specialists, your eye doctor will work with you to determine which option is best for your lifestyle.
Keep reading to learn the difference between a standard IOL and a premium IOL!
What is an IOL?
An intraocular lens, or IOL, is an artificial lens that replaces your natural cataract-effected lens inside your eye during cataract surgery. These lenses are made of silicon and acrylic, which makes them durable and long-lasting. 
During cataract surgery, your cataract surgeon will remove your natural lens entirely. First, they will create an opening in your cornea and break down your natural lens into smaller pieces. 
Those pieces are then removed carefully using suction through the opening. A lens is necessary for sight.   
For this reason, they must replace your natural lens with the IOL. The IOL you have chosen is folded before it is inserted into your eye. 
Once it is in place, the surgeon carefully unfolds and adjusts the IOL. When it is in the correct position, the surgery will be complete!
Your vision potential after cataract surgery is largely dependent on the kind of IOL you have chosen. For example, the most basic and least expensive option is the standard IOL. 
This allows you to see clearly, but only at one distance. You will need glasses or contacts to see well at the other distances. 
If you want to have clear vision at multiple distances after cataract surgery and even reduce your dependence on visual aids, you'll have to invest in premium IOLs.       
What Kind of Premium Options Are There?
Premium IOLs can allow you greater visual freedom after cataract surgery compared to standard IOLs. Certain premium IOLs will enable you to see both close up and at a distance.
Some premium IOLs can even give you seamlessly clear vision at intermediate distances. While it is not guaranteed that you won't need glasses with premium IOLs, there is a good chance you'll significantly reduce your dependence on them.
In fact, many people obtain better vision than they ever had before! If you have astigmatism, toric IOL models are a great way to counteract it. 
They are specifically created to balance your vision so you can see clearly. Premium IOLs can even treat presbyopia at the same time. 
At Eye Care Specialists, you'll have a wide range of Lifestyle IOL options. This includes IOLs with multifocal capabilities, as well as custom laser surgery and special testing.
Together, these benefits can help you achieve the best quality vision possible.   
Do I Have to Use Drops After Cataract Surgery?
After a cataract removal surgery, you usually have to use eye drops. These drops help prevent inflammation and possible complications after cataract surgery.
Dropless Cataract Surgery is a new and exciting method of delivering these mediations in advance during the procedure. That way, you won't need to worry about a strict drop schedule!   
If you are curious about dropless cataract surgery, ask your eye doctor at Eye Care Specialists for more information.
Do you want to learn more about IOL options and get help deciding which one may be best for you? Schedule a cataract screening at Eye Care Specialists in Scranton, PA, today!